Meteor is a bomb that falls from the sky during normal rounds. It burns nearby blocks on impact, affected blocks deal 5 damage multiple times to players that touch it. The meteor doesn't deal damage on impact, but blocks do.
Tips and Tricks
Edit
Look out for meteors falling from the sky. They have moderate speed and are easy to spot and avoid.
Avoid blocks affected by the Meteor,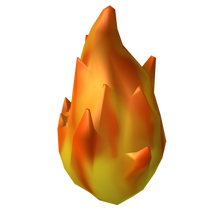 They can deal high damage over time. Use skills such as Hover to avoid burning blocks and use a Fireproof perk to completely negate Fire damage to yourself.
Meteor has a model same as the Breath of Fire gear from the ROBLOX Catalog.
Ad blocker interference detected!
Wikia is a free-to-use site that makes money from advertising. We have a modified experience for viewers using ad blockers

Wikia is not accessible if you've made further modifications. Remove the custom ad blocker rule(s) and the page will load as expected.