Eye Bombs are uncommon bombs that spawn in any intensity in SBS. They are used as an "anti-camping" bomb, forcing players to move out the way. They spawn directly on or near players in an attempt to make them move.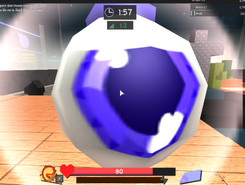 They are currently the only bomb to not spawn in the sky.
An Eye Bomb can hurt someone even if it didn't target them, so it can move a group of players.
Ad blocker interference detected!
Wikia is a free-to-use site that makes money from advertising. We have a modified experience for viewers using ad blockers

Wikia is not accessible if you've made further modifications. Remove the custom ad blocker rule(s) and the page will load as expected.